ACE CAFE LONDON, Club trip 15/16th July 2006
Report by John, photos by John, Debra, Alan, Deborah
John, Debra, Alan, Deborah, Kev, Andy, Jackie and Carl, left the Boars head as arranged at 9:00 am on Saturday morning.
Heading down the M6 with the weather getting hotter and hotter, I have to say it was not my idea of fun. However, after about an hour we pulled off and found a nice café for tea and stickies, after which the day didn't seem so bad.
We hit heavy traffic toward the end of the M1, turned the wrong way on the North Circular, and arrived safe but hot at the Ace Café around dinner time.
It looks just like the old pictures we have all seen and it did feel quite special riding into the car park, with a lot of people already there enjoying the sunshine and the classic car display in front of the building.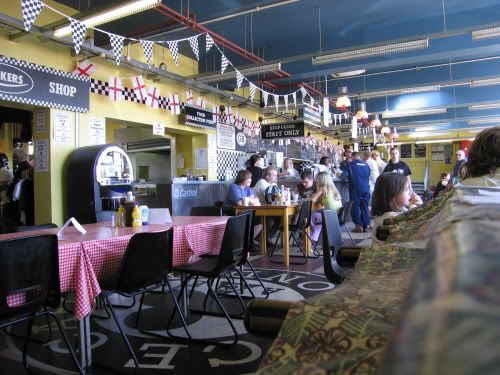 Then we had some lunch before heading off to the Travel Lodge. (Note to Kevin:- remember who produces this web site!)

Jackie then took us on a guided tour of London, her despatch riding days were quite evident as she confidently flicked from lane to lane. Personally I was not so confident and stuck as close to her as I could, if she changed lane, I changed lane, I wasn't going to let her get away. I hadn't ridden in London before, everything moves so much faster than normal with buses and taxis coming down your inside at 40 mph, and if you hesitate for a moment 3 cars have pulled in front of you.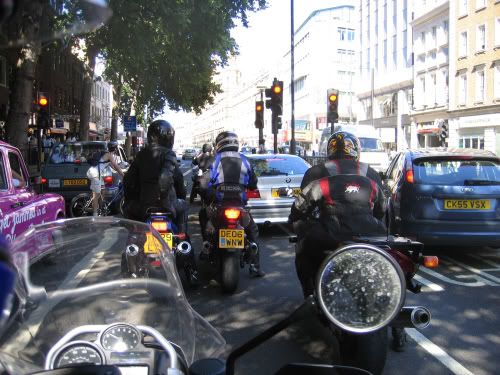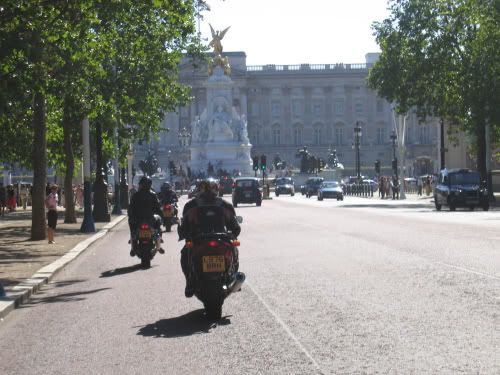 We stopped for a break from the heat.

We called in to see Jackie's son, Marcus who is at university there, went on to a pub for some food then back to the Travel Lodge to shower and change.


PAGE 2----------------------HOME